Roll over image to zoom in
Click to open expanded view
42000 BTU Pyramid Glass Tube Flame Outdoor Heater with Long Strips of Flame with Aluminum Top Reflector Shield Heating Up to 115 Square Feet
$419.50
SKU:
MX284217AAA
Weight & Dimensions

Overall Size
19.5 x 19.5 x 89.4 inches
Overall Weight
55.6LBS
Package Size
53.54*21.65*12.6 inches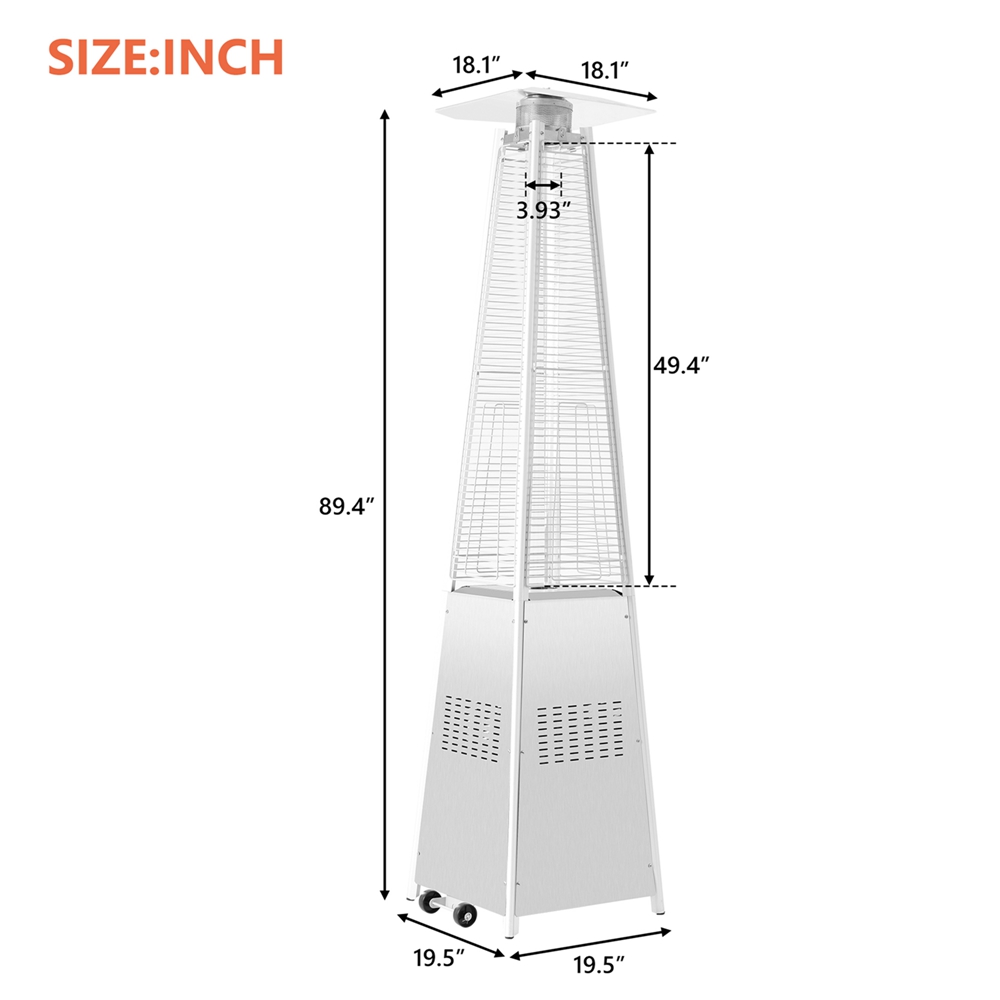 42000 BTU Pyramid Glass Tube Flame Outdoor Heater with Long Strips of Flame with Aluminum Top Reflector Shield Heating Up to 115 Square Feet
High Glass Tube Pyramid Style
Different from a tubular outdoor patio heater, this glass tube patio heater has pyramid style with high height. In that way, long strips of flame can be seen burning to add romantic atmosphere, and the patio heater are designed to use energy efficiently and to present a beautiful appearance. The distinctive design of this patio heater can offer the unique feeling.
Metal Reflector Shield
Considering the actual heating area, this high glass tube pyramid style patio heater has a scientific design on it's top — a reflector shield. This design is necessary to reduce heat loss and allow the heat to cover up to 115 square feet. It provides heat up to 10 feet in diameter. Underneath it is a column of white iron wire and quartz glass, this ensures security.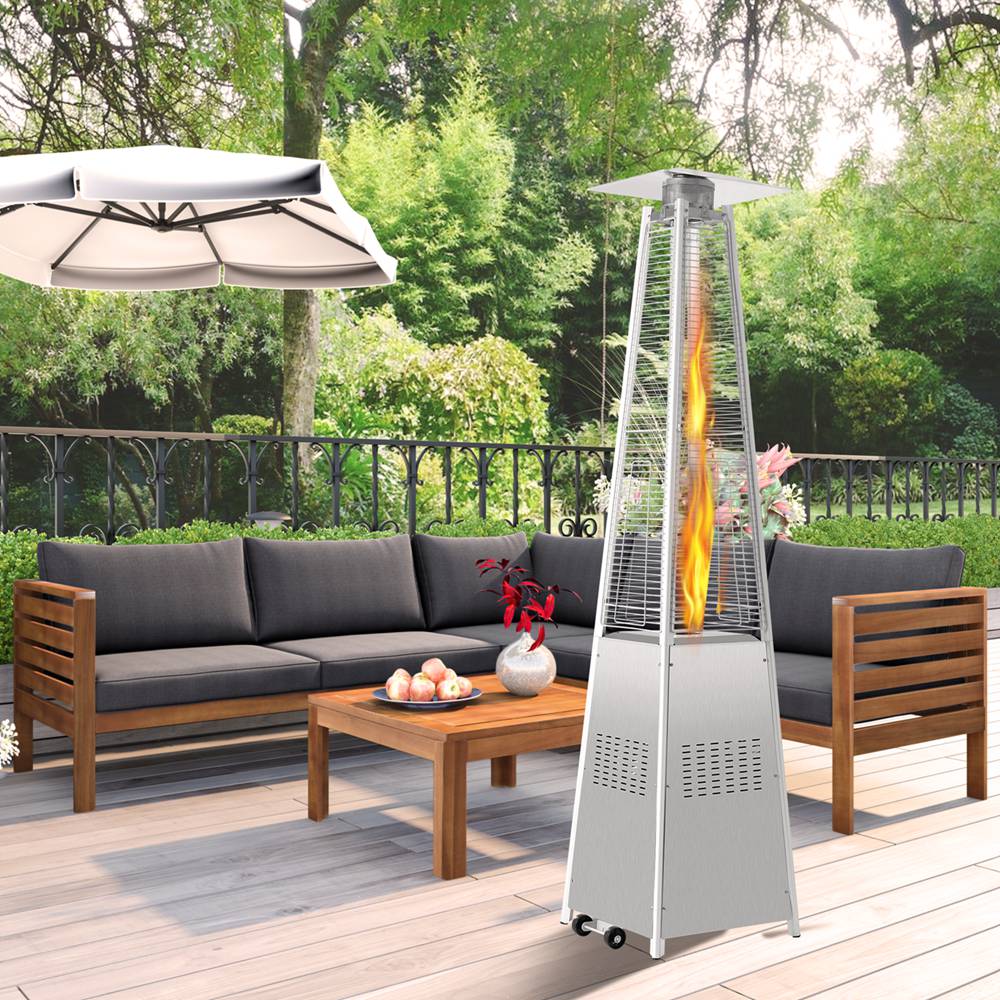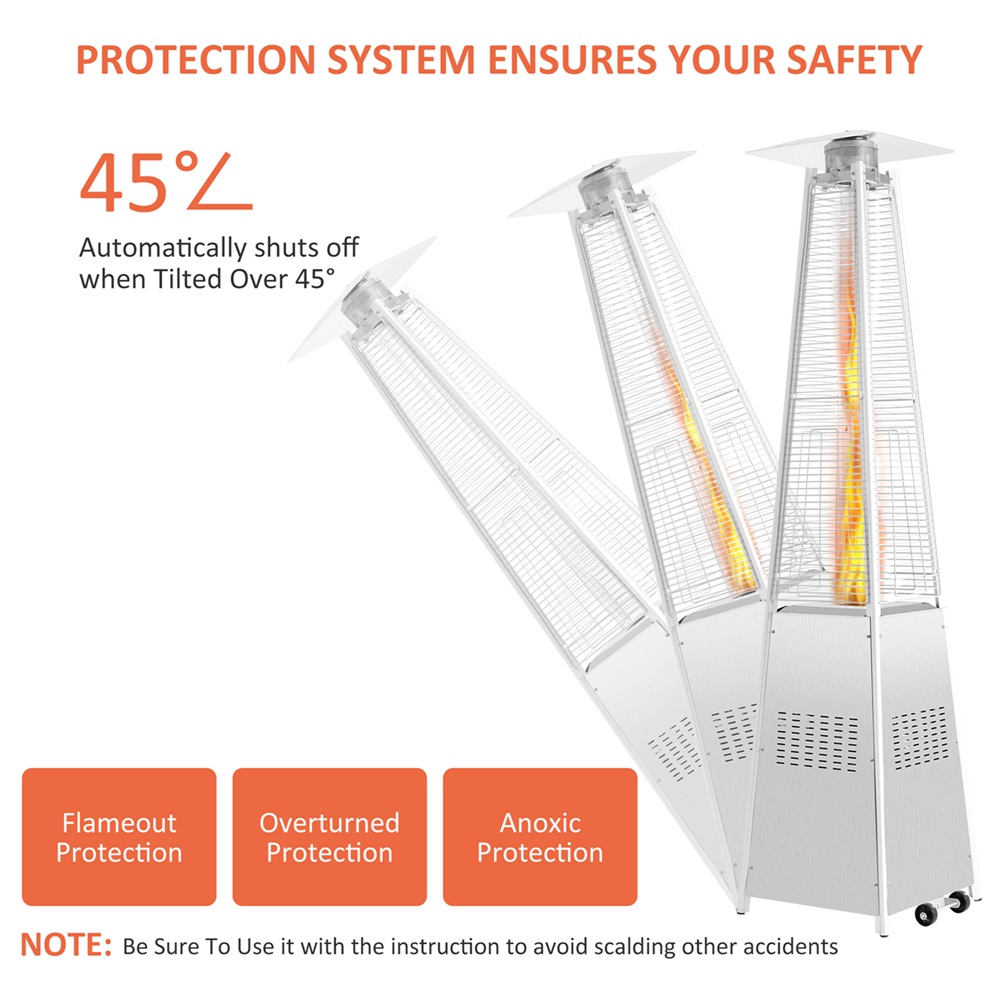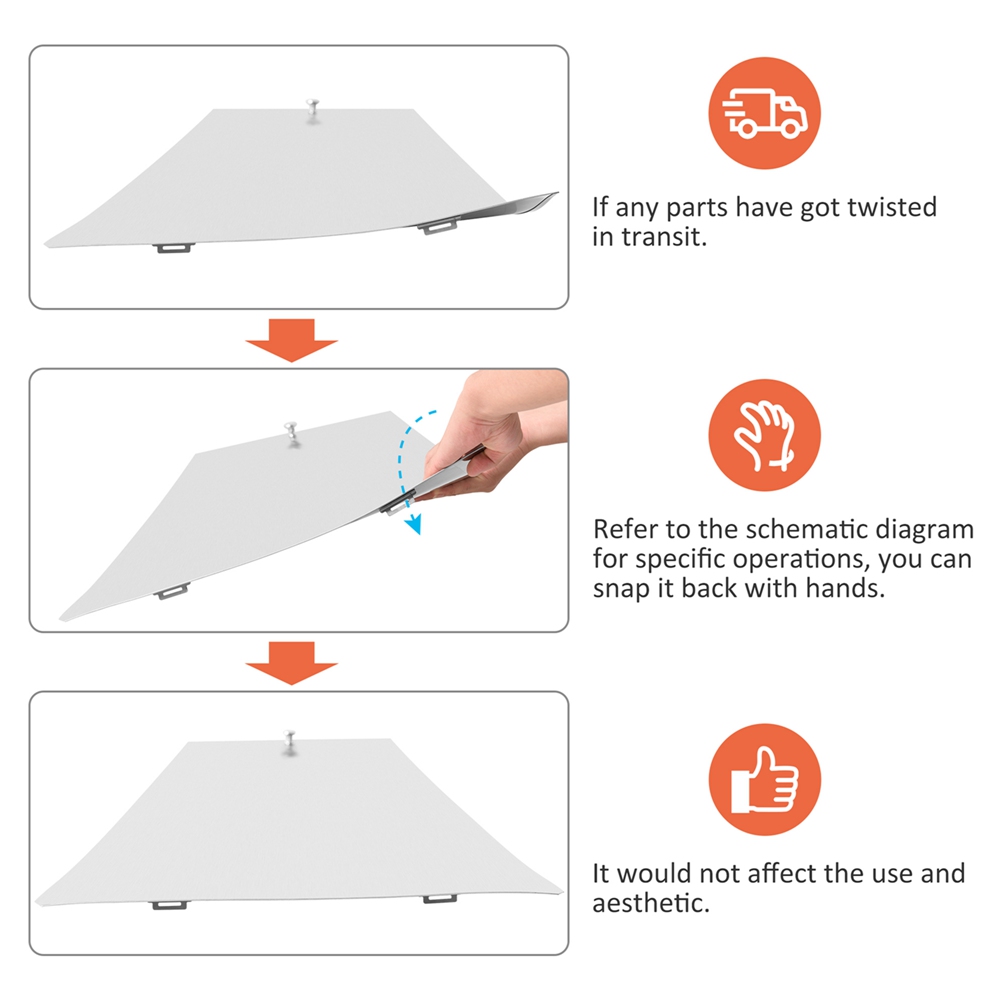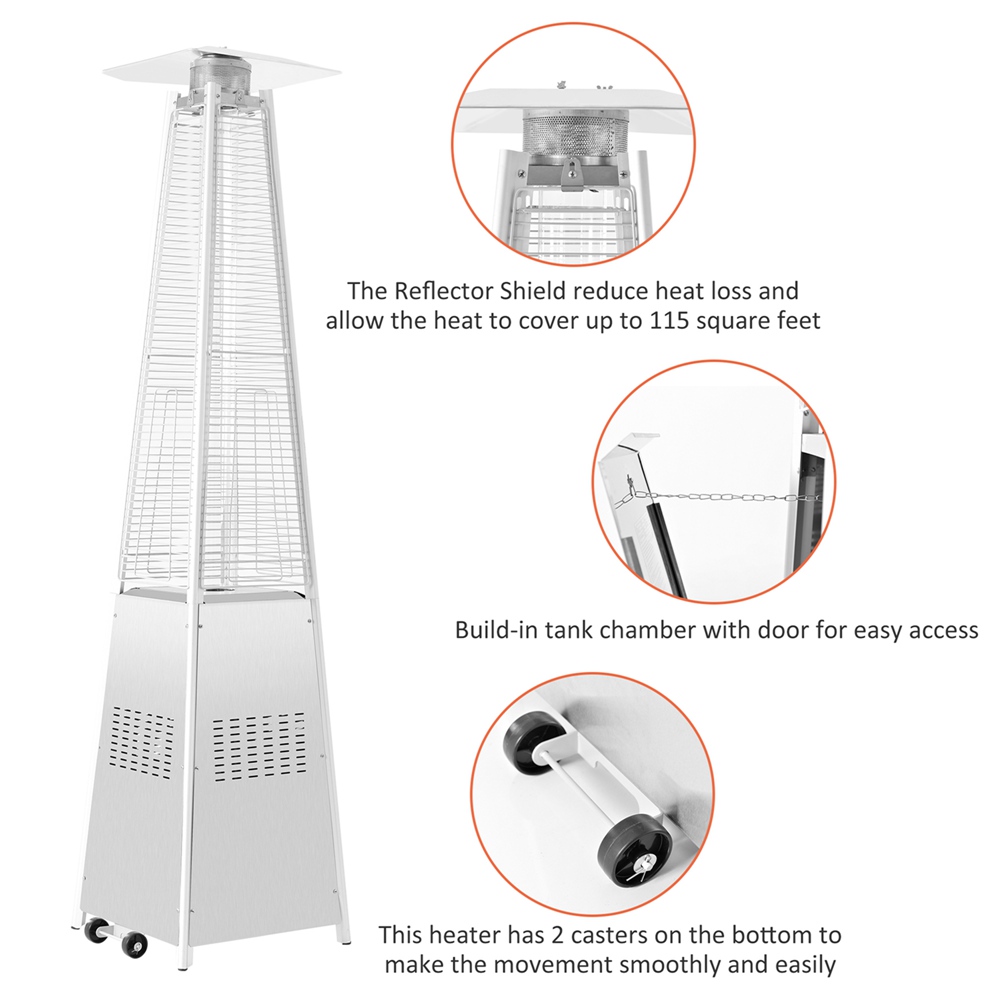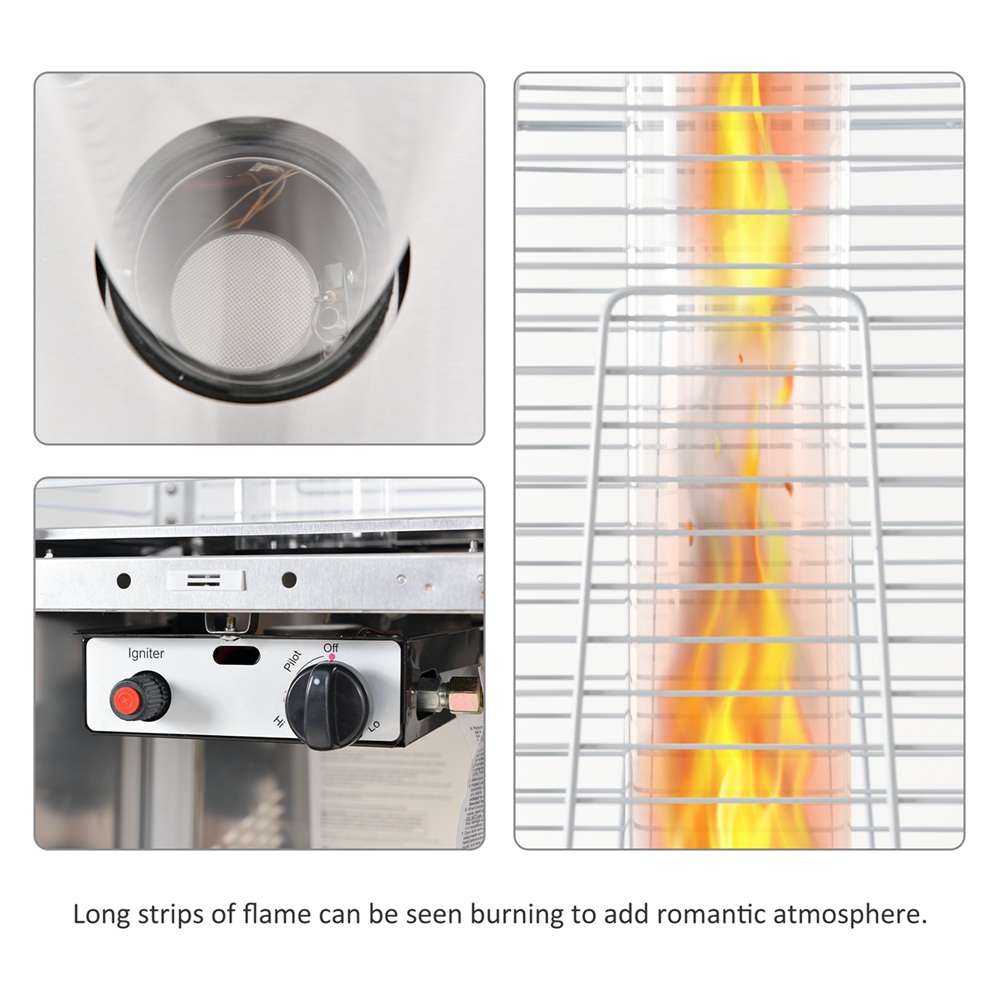 Movable Function
This patio heater is mainly used in fall and winter days, it can keep warm in these cold days and nights. In this case, there are many places need it normally, so the movable function is essential. This pyramid style patio heater has two casters on the bottom to make the movement smoothly and easily. Users can drag this patio heater to change the placement of it to meet different requirements.
Flexible Materials
The main material of this pyramid patio heater is stainless steel, and some parts of this patio heater are made of aluminum and iron spray plastic. These materials have a certain flexibility, so users can snap them back with their hands if any parts have got twisted in transit. It would not affect the use and aesthetic. Users can refer to the schematic diagram for specific operations.
Installation Instructions
About the installation of this pyramid patio heater, a installation instruction manual is shipped with the product. It takes two adults about one hour to install it generally. Clear and logical illustrations in the instruction manual are easy to understand, users just need to follow it, and that can ensure users conduct the installation steps without error. Assembly tools and hardware are included in the package, but there is no battery and propane tank.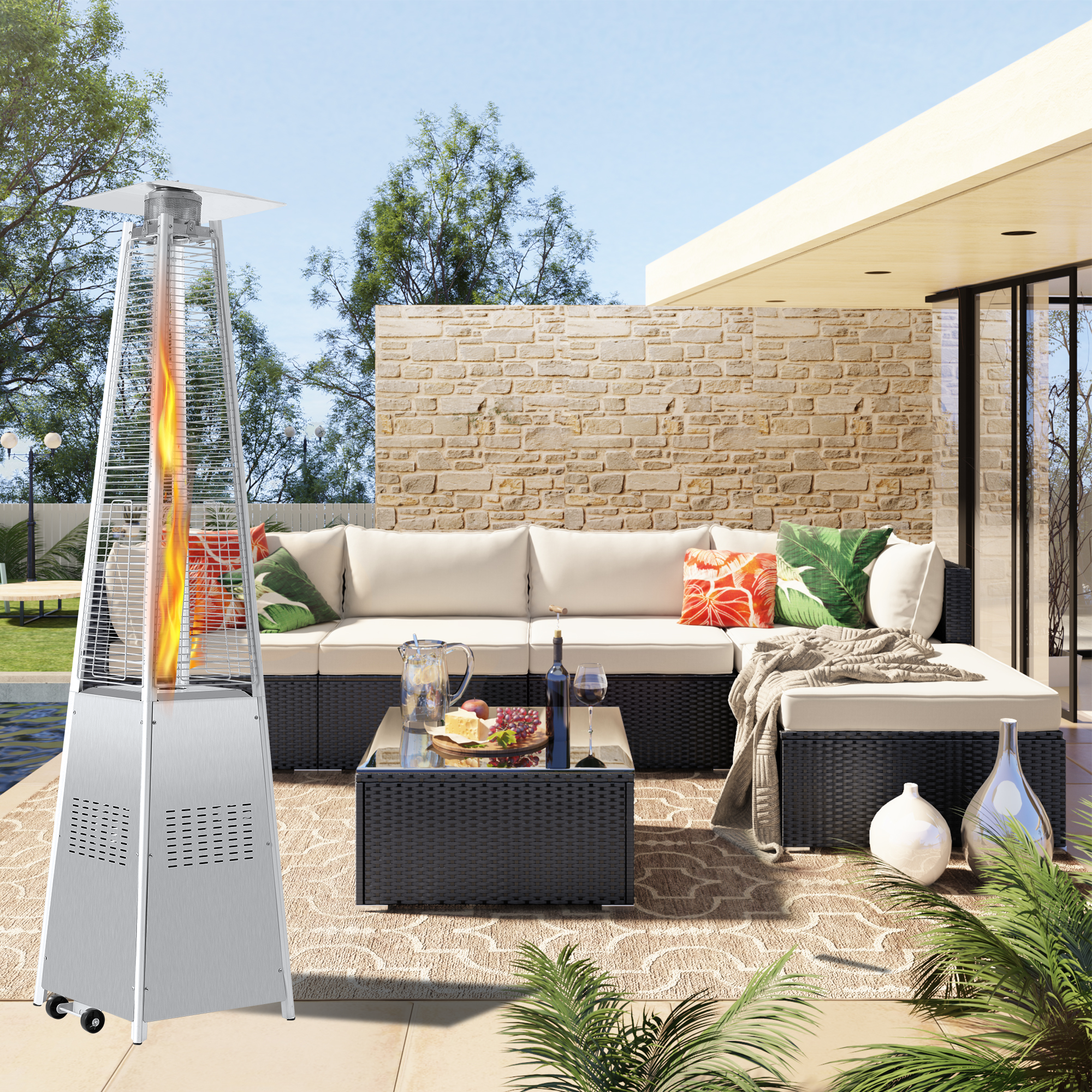 Description
To create a feeling of warmth and comfort in cold weather, this sort of patio heater is a hit. And this pyramid glass tube flame heater is an outstanding product of its kind. It has elegant shape and can offer romantic atmosphere with long strips of flame. The umbrella-shaped heater reflector can save energy by collecting and reflecting heat. Heating radiation range can be extended to 10 feet in diameter. The total height of this product is 2270mm, and the power of it is 13KW/42000 BTU. The flux of this patio heater is 945g/hr. There is a protective film on the surface of product to avoid scratch in transit, tear off the film before use the product. This pyramid glass tube flame heater is certified by CSA and ETL. You can place your order without hesitation.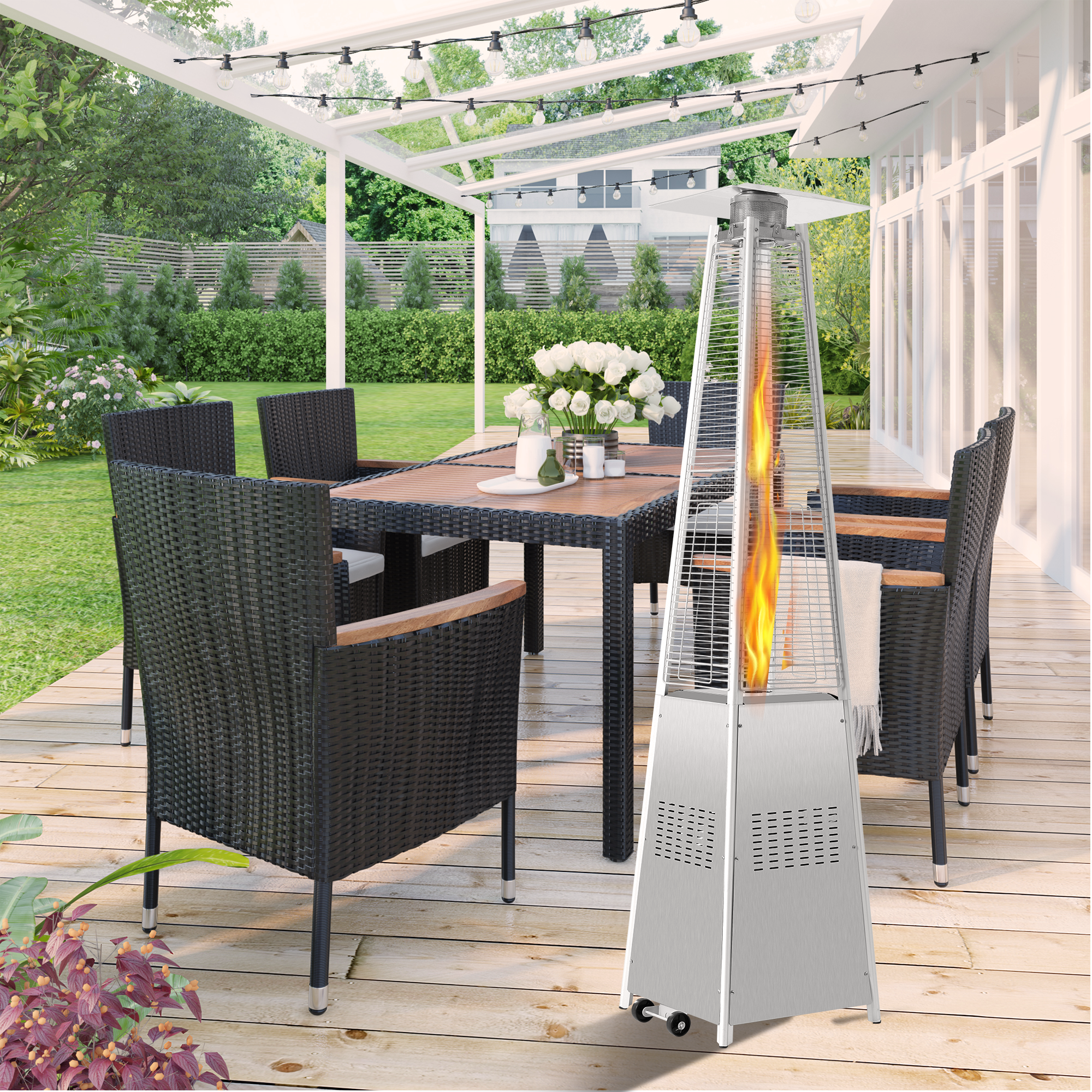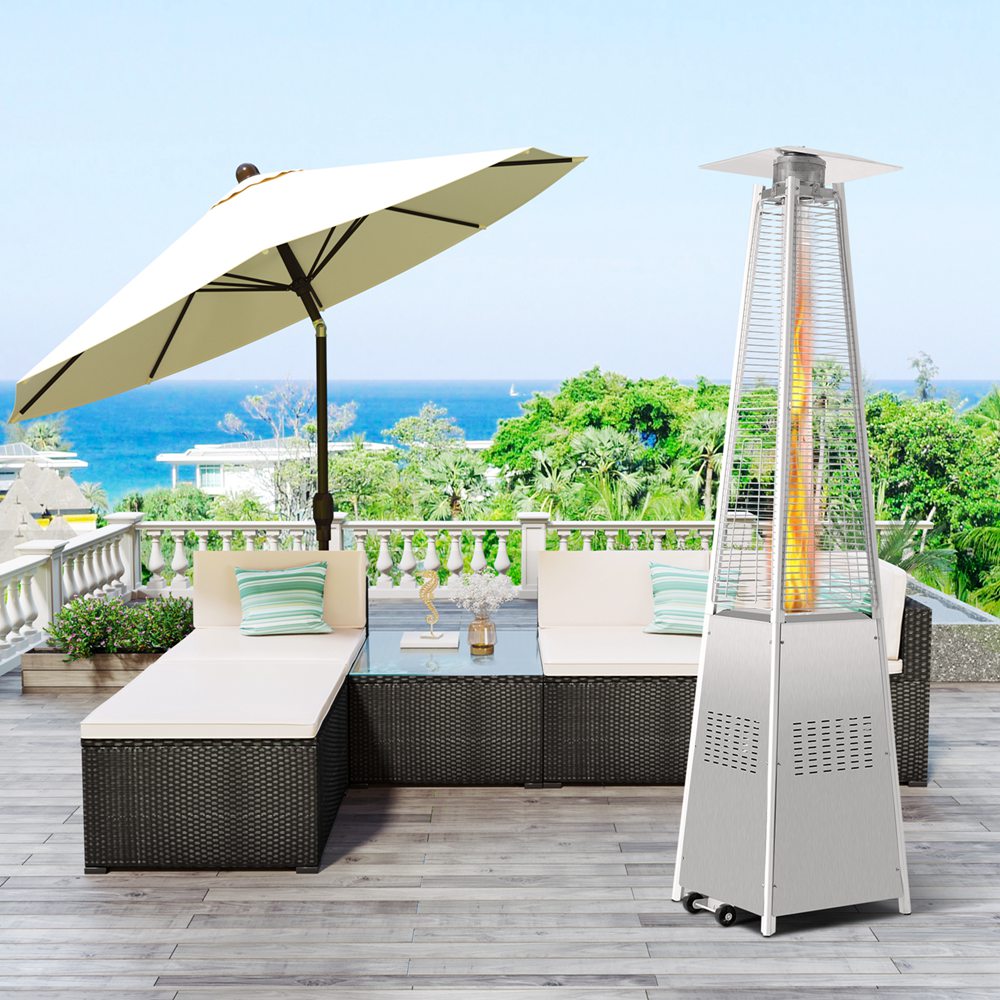 ▲Product Details:
| | |
| --- | --- |
| Product Name | Glass Tube Flame Outdoor Heater |
| Main Material | Stainless Steel |
| Color | Silver |
| BTU Output | 42000BTU |
| Product Warranty | One year |
|  power | 13KW/42000 BTU |
|  The flux of this patio heater | 945g/hr |